Welcome to 1st Start Lacrosse! A super fun starter program for kids all over the Philly area to learn the game. This is a great program for kids (ages 3-7) to get comfortable with a stick in their hands and learn the basics!
This Winter we will be indoors at 3 different locations on Sundays. We will be using the field houses at the beautiful Episcopal Academy in Newtown Square  and Swarthmore College in Swarthmore, PA. Our 3rd location will be on the turf field at Ampro Sports in Primos, PA.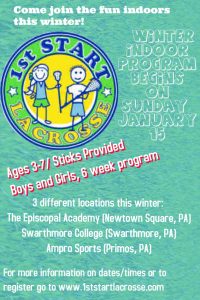 To Register for our winter clinics click here!