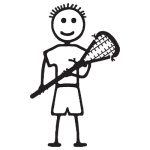 Bob Wassell
Coach Bob is another fan favorite on the 1st Start Lacrosse Field!
Hailing from Springfield, PA, Coach Bob graduated from The Episcopal Academy in Newtown Square where he was a 4 sport varsity letterman in Football, Wrestling, Track, and Lacrosse.
Back in the beginning of Spring 09′ when Coach Bob was a big senior on campus at Episcopal, he was growing bored of track and decided to go out for something more physical….LACROSSE!  It was there where he just so happened to meet Coach John who had just been hired by EA to help coach the faceoff guys. They immediately hit it off and Coach Bob decided to give facing off a try! By midseason Coach Bob was the teams starting faceoff guy and was a major contributor to Episcopal's success that season (most notably against Episcopal's major rival Malvern Prep where they won in OT 7-6!!).
Coach Bob continued his lacrosse career at UNC-Wilmington, where he was a 2 time team captain for the UNCW club team. He graduated in 2013 with a degree in Political Science.
Coach Bob is currently a National Account Manager for IQ Media. He resides in the Old City section of Philadelphia.