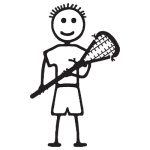 John Bodnar
Coach John prides himself on making his presence known very quickly on the 1 st Start Lacrosse field! With over 10 years of experience teaching and coaching kids at all different levels, you can understand why.
Coach John began playing lacrosse at age 9, where his lacrosse career continued at Madison High School (NJ) and Cabrini College. Coach John graduated from Cabrini College in 2008 with a Bachelor's Degree in History and also earned his Master's Degree in Education from Cabrini in 2009. He is on his 8th year teaching special education at Penn Wood High School in Lansdowne, PA. John has also been an assistant coach for the varsity lacrosse team at The Episcopal Academy in Newtown Square for 7 years, where he specialized in working with the faceoff guys. Since 2009, every one of Coach John's faceoff guys at Episcopal has committed to play at a Division I school! John also started the Philly Face-Off League in 2013, where face-off guys from all over the tri-state area come and train on a weekly basis.
John currently resides in Media, PA with his wife Kerri and his 2 year old son JT.