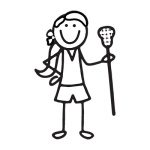 Katie Lasater
Coach Katie started playing lacrosse at age 12 and was a star player at Great Valley High School and Cabrini College. She has coached players at all levels but really loves teaching the game to the youngsters!
During the 2016 season at Cabrini, Coach Katie appeared in 16 games and totaled 35 points on 24 goals and 11 assists. She was ranked 5th on the team in goals and points and 3rd on the team in assists. Coach Katie was also named MVP of the CSAC Championship game!
As hard as Coach Katie worked on the lacrosse field she worked just as hard in the classroom! She was also named to CSAC All-Academic Team in 2016.
Coach Katie is currently employed at Vanguard and resides in Malvern, PA.