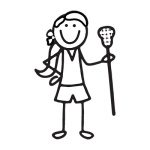 Lacie Doubet
Any little players out there trying to learn how to score some serious goals?!?! Meet Coach Lacie!
Lacie is Cabrini University's all-time leading goal scorer, totaling 233 goals, while her 74 assists are fourth on Cabrini's all time career points list.
Lacie was CSAC player of the year in 2015 and 2013 and was Rookie of the Year in 2012.
Lacie graduated from Cabrini in 2015 with a degree in marketing.
She was also a high school standout at Ridley, graduating in 2011.