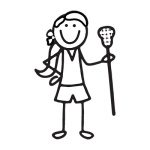 Mariel Valerio
Assistant Varsity Girl's Lacrosse Coach
Strath Haven High School
Started playing lacrosse at age 9
Mariel Bryan Valerio graduated from Ridley High School in 2005 where she was the captain of the soccer and lacrosse teams her junior and senior year. Mariel received first team All-Central and All-Delco honors as a senior and lead the Central League in goals scored. Coach Valerio attended Penn State University on a lacrosse scholarship where she earned Academic All-ALC honors. She graduated in 2009 with her BA in Rehabilitation and Human Services and her Masters from West Chester University in elementary and secondary school counseling.
After college Mariel was hired as a Behavioral Specialist in the Ridley School District and completed her first year as the assistant Varsity Girls Lacrosse Coach at Strath Haven High School.
Mariel also runs the Ridley Girls Youth Lacrosse Program and has coached girls youth lacrosse for the past 10 years.