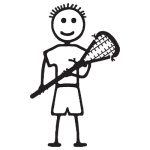 Matt Ward
We are extremely excited to have Coach Matt on board with us! Coach Matt was an All American long stick defender in high school AND college!!
A Ridley Native, Matt graduated from Cabrini University with a degree in Communications in 2016.
In 2016 Matt was named to the All-CSAC 1st Team and earned USILA All-America Honorable Mention. He was also a USILA Scholar All American in 2016 as well! Matt also set the Cabrini Men's lacrosse program record with 8 caused turnovers in a game against No. 9 Ohio Wesleyan (3/12/16).
Matt was also a high school All American for Ridley High School in 2012.
Coach Matt is really pumped to work with all the future defenders out there!