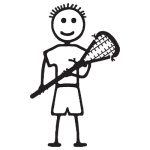 Tom Lemieux
Tom Lemieux is the head coach for Springfield High School. This past season Springfield High school won the State Championship and Coach Lemieux won Philly Lacrosse Coach of the Year. He was the offensive coordinator for five years at Springfield before accepting the head coach position in 2010. He was 2010 EPSLA Assistant Coach of the year. Coach Lemieux was the offensive coordinator at Cabrini College prior to Springfield High School.
A graduate of Comsewogue High School in Long Island, New York. As a senior, he was a member of New York Championship Team that was ranked second in the nation. Tom earned All-League Honors as a Junior and All-County Honors as a Senior.
Coach Lemieux is a graduate from Cabrini College with a B.A. in Sociology and a Masters in Special Education. At Cabrini, Tom led the Cavaliers to two straight conference championships as a Captain. Tom received All Conference honors all four years and was named Player of the Year in his conference and Male Athlete of the Year. He ended his career as the all time leading scorer. In 2007, Tom was the first ever men's lacrosse player inducted into the Cabrini College Athletic Hall of Fame.
Coach Lemieux is a Special Education Teacher at Ridley High School, and resides in Springfield with his wife Kristy and daughter Eva and son Tommy.
In 2013, Tom helped to found Springfield Cougars Lacrosse Club, Inc. and currently serves as its President (Club Director) and is a member of its Board of Directors.  In 2015, Tom was honored as Coach of the Year by the DelCo Times.  In 2015, Tom was the Head Coach of U13 team. In 2016, Tom served as Assistant Coach of U9 team (2025/2026).