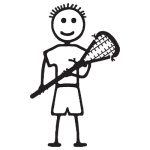 Warren Danenza
Coach Warren is a seasoned veteran when it comes to teaching and working with children.
Coach Warren began playing lacrosse at age 10, where his lacrosse career continued at O'Hara High School in Marple, PA and Nuemann University. Coach Warren graduated from Neumann University in 2010 with an undergraduate degree in English and Secondary Education. He recently completed his Master's in Education from Cabrini College in 2016. Coach Warren is going on his 3 rd year teaching English in the William Penn School District at Penn Wood Middle School in Darby, PA. He is also an assistant coach at Swarthmore College, where he works primarily with the defense.
Coach Warren resides in South Jersey with his wife Danielle and daughter Kennedy Jane.